Sanakuva Kollektiivi (Sanakuva Collective) was a multidisciplinary arts group, established in Finland by dance artist Meri-Tuuli Risberg, designer Marion Robinson and author Heikki Saure. The group was active 2013–2015.
It was a experimental platform where poetry, and literary texts, are interpreted via means of design, dance, photography, video and sound to be presented as literary interventions taking shape online and at live events.
The collective expanded via every realized project inviting new participants from multiple fields and backgrounds, all with an interest in stories.
The main idea for Sanakuva Collective was to reach out to the general public to make poetry and literary texts more approachable. It might be challenging to familiarize with conceptual poetry and permeate its (academic) theories and practices – Sanakuva Collective aimed to bridge the gap, all the while asking serious questions in artistic and conceptual poetry, for example: who is the author?
The collective's work drew from many avant-gardist poetry and arts movements, such as dadaism, the Russian avant-garde, conceptual poetry, concrete poetry, asemic writing and oulipo.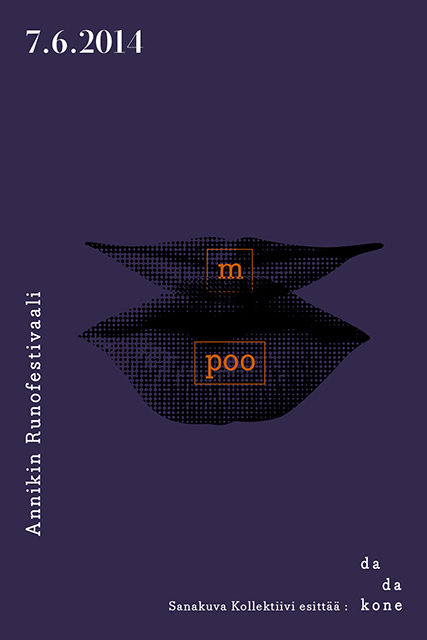 Past and future projects/performances include:
2015
Merkillinen – visual poetry exhibition
Sanakuva organised and curated a visual poetry exhibition at Galleria Aila Seppälä, in Lahti 29.7. –23.8.2015.
The exhibtion explores poetry for the eye in it's many forms through prominant Finnish poets, artists and graphic designers.
2014
Dadakone at Runokuu literary festival
Dadakone dance performance opens Taiteiden yö (night of the arts) at Gloria, Helsinki at this well regarded literary festival. The Dada poem generator is open for public.
Dadakone at Lahti Poetry Marathon 2014
The poem generator is open for public, and dance perfomance takes place at exactly 17.56. - the time of creation of Dadakone.
Annikki poetry festival, Tampere, Finland
Dadakone, a dada poetry generating machine was featured at this well-known and loved annual poetry festival. Along the machine Sanakuva Collective did a dance performance.
2013
Mi' väräjää love poem generator, 2013.
The generator creates pathetic love poems (in Finnish).
We have build a whole world around it complete with
set design, dance performances, sound collage, talks, and even been featured in a sports event.
It runs online here
See dance trailer here
Mi' väräjää love poem generator at Kunnon nainen (healthy lady) sports event.
1 000 women wore randomly generated love poems on their shirts, thus creating one continuous, collaborative running poem.
Sanakuva literary event at Lahti Poetry Marathon 2013.
The event comprised of love poem generator, 3 dance interventions and interviews with graphic designer Markus Pyörälä, poet Harry Salmenniemi about visual poetry and poet Olli-Pekka Tennilä of his recent work.
Organized by Arts promotion centre of Finland, Lahti poetry marathon and Sanakuva Collective.
Exhibition at Riihimäki Art Museum 2013, Finland.
One day event included (experimental) poetry reading
with dance performance and musical intervention.

Arts grants
2014 Kone Foundation
2014 Arts Promotion Centre Finland, Multidisciplinary arts